Chicago Nursing Home Abuse Attorneys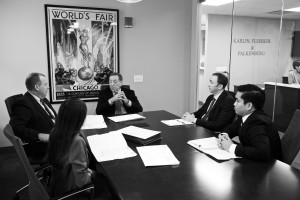 The decision to trust your loved one's care to a nursing home was likely a complicated and difficult one for your family. Once your family was able to select a facility and trust its staff with the care of your loved one, you had every reason to believe that he or she would only be treated with dignity and compassion throughout the duration of his or her stay.
Sadly, nursing home abuse still happens even under unlikely circumstances. If you suspect your loved one has been abused at his or her nursing home, you have every reason to be angry. More than that, the Chicago nursing home abuse lawyers at our personal injury law firm can take decisive legal action against the responsible party to pursue compensation for all of your loved ones' suffering. Karlin, Fleisher & Falkenberg, LLC is poised to help you and your family overcome the challenges that come with discovering a loved one was abused in a nursing home. Call us at (312) 346-8620 to set up a free consultation today.
Know the Warning Signs of Nursing Home Negligence and Abuse
While the more egregious forms of physical abuse will be immediately apparent, residents of nursing homes may be subjected to a range of other behaviors that actually constitute physical abuse—for instance, it would be considered abusive for unreasonable force to be used as a means to restrain a resident. Once you have done what is necessary to protect your loved one from any further mistreatment, we can help you take legal action against your loved one's abusers.
Allegations of sexual abuse are serious and will need to be duly investigated by the appropriate authorities. That being said, you need to take immediate action to protect your loved one if you suspect he or she has experienced unwanted or otherwise non-consensual sexual contact. While we will be able to use the official report as a basis for our claim against the responsible party, we will do everything in our power to demonstrate just how devastating this has been for your loved one.
Just because the actions of staff are not directly causing harm to your loved one does not mean that he or she is not being abused. In fact, any willful failure to provide adequate care deemed "necessary to avoid physical harm, mental anguish, or mental illness of a resident" constitutes neglect, according to the Illinois Nursing Home Care Act. If you believe that the negligence of nursing home staff members has caused your loved one to suffer, you should contact our team as soon as possible.
As outrageously obvious as it may be, nursing home staff members must actively monitor how much and how often their residents are eating and drinking. There are no circumstances under which any person living in a nursing home should become malnourished or dehydrated. Bearing that in mind, you have every reason to be angry on discovering that your loved one has suffered the thoroughly avoidable consequences of either condition. We can help you take the responsible party to court where they will be held accountable for their deplorable neglect.
Nursing home staff members should know how often residents with limited mobility will need assistance shifting in their beds to prevent bed sores from forming—in fact, residents probably need assistance shifting positions with greater frequency just to be comfortable. In any event, bed sores can be as potentially dangerous as they are thoroughly avoidable, and we can help you develop a claim that shows just how complicit the nursing home was in your loved one's injury.
Few other accidents will carry the same potential to seriously affect an elderly person's health as a fall. Nursing home facilities and their staff should know this and, more importantly, what they need to do to prevent falls on their premises. For instance, special care must be taken to ensure that walkways are well-maintained, level, and clear of obstruction. While it may be impossible to prevent all falls, nursing homes may be held liable for any failure on their part to protect their residents.
Nursing Home Abuse FAQs
How do nursing home faculty members take advantage of the elderly?
Elder citizens that are living in nursing home facilities are often in a state where they are fragile, physically and/or mentally. Additionally, these citizens are dependent on the help of nursing home staff members for eating, getting out of bed, getting dressed, receiving health care, and many other needs. This power dynamic makes elderly residents vulnerable and sometimes at the mercy of nursing home staff members. In unfortunate instances, staff members will use the fragility and vulnerability to take advantage of residents physically, emotionally, sexually, or financially. If you have experienced an instance of abuse or are suspicious of foul play in your elderly loved one's nursing home facility, you need to take action as soon as possible.
What are common signs of nursing home abuse?
If you are suspicious of foul play going on in your elder loved one's nursing home facility, be on the lookout for some of the common signs of abuse. Whether it is emotional, physical, financial, or sexual abuse, there are many signs that point to the problem. Common signs of abuse include recurring bruises, dehydration, cuts or lacerations, unexplained injuries, sudden or unusual change in behavior, unwillingness to eat or interact with others, emotional distancing, and unusual fear or behavior around staff members. If you notice these signs or any other suspicious or unusual behaviors, you may want to take action. The attorneys of the Karlin, Fleisher & Falkenberg, LLC are dedicated to protecting the rights and well-being of elders and we are here to help your loved one get the proper care they need.
What should I do if I suspect nursing home abuse?
If you notice or suspect nursing home abuse, you need to take action immediately. Typically, the health or well-being of nursing home residents is already fragile, and if they do not receive proper care, their lives could be at risk. First, if you feel that it is necessary, you will want to remove your loved one from the care of the facility, at least temporarily, so that you know they are safe. Then, you need to report the facility to your state's nursing home abuse hotline. For the state of Illinois, you will report the abuse to the Illinois Department of Public Health at 1-800-252-4343. This will ensure that the nursing home is investigated and evaluated. Finally, contact a tough and qualified nursing home abuse attorney to protect your rights, the rights of your loved one, and the lives of all of the elderly residents. The attorneys of the Karlin, Fleisher & Falkenberg, LLC are devoted to protecting our society's elders and we will do all we can to fight for the care they need.
Contact a Nursing Home Abuse Attorney in Chicago
If someone you love has been mistreated while being cared for in a nursing home facility, you have every right to be angry. Our legal team can help you fight for your loved one's rights and help you pursue compensation for all the pain and suffering your loved one was forced to endure. To speak with a nursing home abuse attorney at the Chicago offices of Karlin, Fleisher & Falkenberg, LLC, about the particulars of your claim, please call (312) 346-8620 today.