Truck Accident Lawyers In Chicago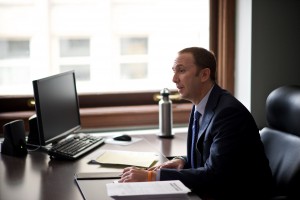 Trucking companies and their drivers have a legal and ethical responsibility to protect other drivers on the road. Bearing that in mind, truck accident victims have every reason to take legal action against the responsible party if they suspect any form of negligence or recklessness caused the accident.
If you or someone you love got hurt in a truck accident, you must contact a lawyer as soon as possible. At Karlin, Fleisher & Falkenberg, LLC, our Chicago truck accident lawyers understand just how much may depend on this case, and our legal team can help you pursue aggressive legal action against whoever is responsible for all your pain and suffering.
Since 1970, the trial lawyers of Karlin, Fleisher & Falkenberg, LLC have been Chicago's go-to law firm for victims of serious truck accidents. For over four decades, we have dedicated our lives to fighting for Chicago citizens who get hurt in truck accidents caused by the negligent actions of others. Our truck accident attorneys have earned a reputation for being national leaders in truck accident law and have recovered over 400 million for injured victims just like you. We understand the economic, physical, and emotional consequences of these types of accidents, and we want to help you.
Large tractor-trailers, tanker trucks, garbage trucks, and other types of heavy trucks travel our Illinois highways. When truckers do not respect the road or other vehicles, they endanger our loved ones who travel on these roads. We understand that experience is crucial in severe injury cases, given the lasting and severe effects of a truck accident.
You need a firm that has the compassion to understand your struggles and will explain the often complicated and confusing legal process. At Karlin, Fleisher & Falkenberg, LLC, our team has over 40 years of experience handling a wide variety of personal injury cases. Call us at 312-346-8620, or you can also contact us through our online form or chat with us live. A dedicated team member is ready to talk to you about the accident.
Do I Need A Truck Accident Lawyer?
If you got hurt in a truck or 18-wheeler accident, you likely do not know where to turn for help. However, as a Chicago injury victim, you may be eligible for compensation covering pain, medical bills, therapy, and accident-related expenses.
Furthermore, it is especially important to pursue this compensation if the accident occurred through no fault of your own. We firmly believe you shouldn't bear the cost of others' mistakes; thus, we're ready to secure the justice you deserve.
The legal process can be challenging. Choosing the right attorney can determine the outcome of your case. Let our firm handle the legal questions so that you can focus on full recovery from your injuries.
Why Choose Karlin, Fleisher & Falkenberg, LLC?
Our trial lawyer firm of Karlin, Fleisher & Falkenberg, LLC was founded in 1970, and for over four decades, our firm has been a recognized leader in personal injury law. We've forged lasting client bonds built on our legal expertise, relying on our compassion, communication, accessibility, and tenacity.
If you require a Chicago-area truck accident attorney, several other firms are available for your consideration. We firmly believe our record of success, experience in truck accident cases, and dedication to clients set us apart.
Our accident lawyers have a strong track record of assisting individuals and families in the Chicago area. We possess the resources and skills required to ensure justice prevails and prevent others from enduring your suffering. Our Chicago truck accident attorneys will vigorously safeguard your rights and pursue complete compensation for your injuries.
Contact us today at 312-346-8620 to speak with a legal team member.
Cases We Handle
Truck accidents are extremely dangerous due to their sheer size and weight. Serious injury accidents happen across the Chicagoland area and often result from many factors, including:
Despite everything they know about the inherent dangers of the vehicles they operate, the fact is that some truck drivers still choose to get behind the wheel while they are under the influence of drugs or alcohol. As difficult as these decisions are to understand, the consequences of accidents caused by intoxicated truckers can leave victims and their families reeling.
When you and your family are ready to take legal action, we can help you pursue an aggressive line of action against the trucker responsible for your accident. Furthermore, our attorneys can assist you in navigating the claims process with insurance companies responsible for compensating your accident injuries.
Commercial trucks must undergo rigorous maintenance on a regular schedule to ensure their safety out on the road. Even when vehicles undergo scheduled maintenance by well-trained mechanics, it is virtually impossible to prevent serious accidents caused by defects in any of the mechanical systems that make up these vehicles.
When a mechanical defect is determined to be the cause of an accident, there is a good chance the company responsible for the design or manufacturing defect may be held financially liable for the consequences of the accident rather than the company operating the vehicle at the time of the accident. These lawsuits are critical to enforcing the safety of the trucking industry.
When trucking companies disregard state and federal safety laws, serious accidents are nearly inevitable. That said, employers may be liable for accidents caused by poor vehicle maintenance or inadequate training of their drivers, to name just a couple of the more common forms of employer negligence.
To file an employer negligence claim, we must prove the accident resulted from safety violations by the trucking company. Though we can secure compensation for your accident costs, your lawsuit can also prevent future accidents.
When a trucking company has done everything possible to ensure their vehicles and employees have what they need to do the job safely, the responsibility for safe conduct shifts to the truck driver. Unfortunately, some drivers fail to take this responsibility seriously and cause catastrophic and preventable accidents.
Any failure to be aware of their surroundings or limitations may result in a trucker causing a life-threatening accident. Yet, truckers must grasp their vehicle's inherent risks and understand how quickly their negligence or recklessness can become dangerous. Sadly, accidents caused by driver error and negligence are all too familiar.
As part of the training regimen they are supposed to undergo before ever getting behind the wheel, truckers learn how to monitor their vehicle's blind spots, known in the trucking industry as a "no-zone." Nevertheless, truckers can likely face liability for accidentally hitting vehicles in their blind spots due to safety considerations.
Assuming the trucker received proper employer training, your claim must target the driver responsible for the accident. Additionally, truckers must be sure there is no vehicle in any of their no-zones before changing lanes or turning. With that in mind, our lawyers can assist you in demonstrating that the trucker could have averted your accident.
Few things will have the power to affect your family as strongly as the sudden death of a loved one. Although legal action may seem distant, you can pursue a claim for your family's pain and suffering since the accident.
In addition to the compensation, your family may be able to recover with a claim against the responsible party; your lawsuit may send a message to the trucking industry that can help prevent another family from experiencing a loss like your own. There are no excuses for such accidents; we can help your family hold the responsible party accountable for your loss.
Other contributing factors in truck accidents are driver fatigue, overloaded freight, excessive speed, equipment malfunction, or defective tires. Moreover, truck accidents may result from road conditions and the truck driver's noncompliance with state and federal regulations.
Frequently Asked Questions
If someone else's negligence causes injury to you or a loved one, you likely have numerous questions and few answers. At Karlin, Fleisher & Falkenberg, LLC, our Chicago truck accident attorneys understand how overwhelming this can be. To help you initiate the legal process, we've answered commonly asked questions in such situations:
How long do I have to file a claim after a truck wreck?
In many states, like Illinois, the statute of limitations is often two years from injury discovery, not the accident date. Therefore, it is best to contact an attorney as soon as possible following an accident. Essential evidence regarding vehicle safety standards and driver logs can quickly be lost or destroyed.
What should I do if I am contacted by the trucking company before I've selected an attorney to represent me?
If the trucking company contacts you, refrain from speaking until you've obtained legal representation to safeguard your interests.
You should not give any recorded statements or consent to any calls with the company or their insurance provider. Furthermore, never sign any forms sent to you by other parties. Instead, contact an experienced truck accident attorney from Karlin, Fleisher & Falkenberg, LLC immediately.
What kind of evidence will I need to file my claim?
Any evidence that can independently corroborate your claim will be indispensable to your case. For example, any police reports, witness testimony, and photographs of the accident would be very helpful.
Also, if you have any receipts for all the medical and rehabilitative care you have undergone, pay slips that show how much income you lost during recovery, and any other documentation of the financial damages associated with the accident, this documentation can be helpful.
In the event of a truck accident, is the trucking company or the driver liable?
In any truck accident case, multiple parties may share responsibility for injuries to other drivers. This may include the vehicle's driver, the company that hired them, or the truck's owner. The facility where the truck was loaded and possibly the owner of the contents could share liability. The driver, usually an employee, represents or extends the company's image and values.
Any actions they take may be the company's responsibility if they acted within the scope of their employment. If they violated company rules, like driving under the influence, the case may shift focus to the driver.
Truck Accident Statistics
National Statistics
Key findings from the National Highway Transportation Safety Administration include the following:
An estimated 154,993 people suffered injuries in crashes involving large trucks in 2021—an estimated nine percent increase from the 141,613 injured in 2020.
In 2021, 5,788 people died in crashes involving large trucks, a 17 percent increase from 2020.
Also, in 2021, seventy-two percent of the people killed in large-truck crashes were occupants of other vehicles.
Illinois Accident Statistics
According to the 2021 Illinois Crash Facts and Statistics from the Illinois Department of Transportation, here are some tractor-trailer crash statistics:
There were 11,178 tractor-trailer accidents in Illinois in 2021. That year, these accidents accounted for 3.8 percent of total crashes statewide.
Tractor-trailer crash fatalities decreased by 0.8 percent from 2020 to 2021. The number of fatal tractor-trailer crashes also went down by 1.9 percent.
Tractor-trailer crashes resulting in injuries accounted for three percent of all injury crashes statewide in 2021. Of all the injuries resulting from Illinois tractor-trailer accidents in 2021, 14.6 percent were incapacitating injuries.
Contact an Experienced Truck Accident Lawyer in Chicago
Since 1970, our team has been representing injured clients in the Chicago area, and we can represent you. The Chicago truck accident attorneys of Karlin, Fleisher & Falkenberg, LLC provide responsible and effective legal representation through their extensive experience, compassion, and a focus on the individual and their family. You can trust our experience, track record, and reputation as we work for you.
If you or someone you love got hurt in a truck accident due to someone else's bad behavior, you could be entitled to compensation. Karlin, Fleisher & Falkenberg, LLC can help you get it.
To speak with a truck accident attorney in Chicago about the particulars of your case, please call our Chicago offices at 312-346-8620 today. Additionally, you may also complete our email form or chat live to learn more about what our experienced team can do to help you. Click here to see how we can help you in a wreck.
Related Reading: