Chicago Truck Accident Attorneys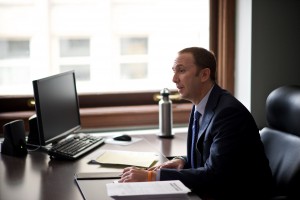 Trucking companies and the drivers they employ have a legal and ethical responsibility to protect other drivers on the road. Bearing that in mind, truck accidents victims have every reason to take legal action against the responsible party if they suspect the accident was caused by any form of negligence or recklessness.
If you or someone you love was hurt in a truck accident, it will be in your best interests to reach out to a lawyer as soon as possible. At Karlin, Fleisher & Falkenberg, LLC, our Chicago truck accident lawyers understand just how much may depend on this case, and our legal team can help you pursue aggressive legal action against whoever is responsible for all your pain and suffering.
Drunk Driving
Despite everything they know about the inherent dangers of the vehicles they operate, the fact is that some truck drivers still choose to get behind the wheel while they are under the influence of drugs or alcohol. As difficult as these decisions are to understand, the consequences of accidents caused by intoxicated truckers can leave victims and their families reeling.
When you and your family are ready to take legal action, we can help you pursue an aggressive line of action against the trucker responsible for your accident. Beyond that, our attorneys can help you work through the claims process with any insurance company obligated to compensate you for the injuries you sustained in the wreck.
Mechanical Defect/Malfunction
Commercial trucks must undergo rigorous maintenance on a regular schedule in order to ensure their safety out on the road. Even when trucks undergo scheduled maintenance that is performed by well-trained mechanics, however, it is virtually impossible to prevent serious accidents caused by defects in any of the mechanical systems that make up these vehicles.
When a mechanical defect is determined to be the cause of an accident, there is a good chance the company responsible for the design or manufacturing defect may be held financially liable for the consequences of the accident, rather than the company that was operating the vehicle at the time of the accident. These lawsuits are critical to enforcing the safety of the trucking industry.
Employer Negligence/Liability
When trucking companies fail to operate their businesses according to state and federal safety laws, it is almost unavoidable that serious accidents will occur. That being said, employers may be held liable for accidents caused by poor vehicle maintenance or inadequate training of their drivers, to name just a couple of the more common forms of employer negligence.
To file an employer negligence claim, we will need to be able to demonstrate that your accident was caused by one or more safety violations made by the trucking company. Though we may be able to recover compensation to help offset the costs of your accident, your lawsuit may also be used as a tool to help prevent accidents like this in the future.
Truck Driver Error/Negligence
When a trucking company has done everything they can to ensure that both their vehicles and their employees have what they need to do the job safely, the responsibility for safe conduct shifts to the truck driver. Unfortunately, some drivers fail to take this responsibility seriously and cause catastrophic and preventable accidents as a result.
Any failure to be aware of their surroundings or their limitations may result in a trucker causing a life-threatening accident. That being said, truckers should be aware of all the inherent risks of their vehicle and know just how quickly their negligence or recklessness can become dangerous. Sadly, accidents caused by driver error and negligence are all too common.
No-Zone Accidents
As part of the training regiment they are supposed to undergo before ever getting behind the wheel, truckers are taught how to monitor their vehicle's blind spots, known in the trucking industry as a "no-zone." That being said, there is a good reason to believe that a trucker can be held liable for accidentally hitting vehicles that are in one of the vehicle's blind spots.
Assuming the trucker was properly trained by his or her employer, your claim will need to be filed against the driver that caused the accident. Truckers must be sure there is not a vehicle in any of their no-zones before changing lanes or making a turn. Bearing that in mind, our lawyers can help you show that the trucker should have been able to prevent your accident.
Wrongful Death
Few things will have the power to affect your family as strongly as the sudden death of a loved one. Though legal action probably feels like a distant concept right now, a claim against the responsible party may be used to recover compensation for all the pain and suffering your family has been forced to endure since the accident.
In addition to the compensation your family may be able to recover with a claim against the responsible party, your lawsuit may send a message to the trucking industry that can help prevent another family from experiencing a loss like your own. There are no excuses for accidents like these, and we can help your family hold the responsible party accountable for your loss.
Consult with a Truck Accident Attorney in Chicago
If you or someone you love was injured in a truck accident that was caused by the negligence or recklessness of someone else, you may be eligible to pursue compensation with a claim against the responsible party. To speak with a truck accident attorney in Chicago about the particulars of your case, please call our Chicago offices at (312) 346-8620 today.