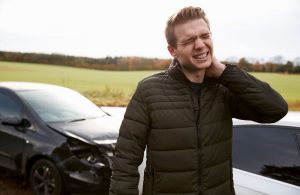 Being injured in an accident leaves you with pain, medical bills, and a lot of time to wonder how you're going to pay for everything. If the accident was due to someone else's careless or negligent behavior, you might wonder if they must pay for the harm they caused you. If you call Karlin, Fleisher & Falkenberg, LLC, we'll do our best to get the compensation you deserve for your injuries.
We've been a personal injury law firm in Bolingbrook, IL, for half a century. We want to see our clients get their day in court and get the justice they deserve.
Contact us by calling 312-346-8620 if you've been injured in an accident and need legal assistance. We're ready to take your call and meet you for a confidential consultation.
Practice Areas
No matter what kind of accident has happened, if it happened to you, it was personal. We can help you deal with the insurance companies and file your claim in any kind of negligence case. These are some of the kinds of cases we take on:
Electric Scooter Accidents
You and your loved ones should not have to suffer because another person acted irresponsibly. Let us help you get the recovery you deserve for your accident and injury. Contact us today to set up your free consultation.
What We Do for You
A personal injury case is a civil lawsuit filed against a person who caused you harm. It is an attempt to get that person or their insurance company to take legal responsibility for the injury they caused you. It's the personal equivalent of a property damage case, where the person damaged something that belonged to you, and it is different from a criminal case, where the person actually broke a law and can be arrested.
For example, if someone rear-ended you at a stoplight because they thought the light had turned green, that would be negligent behavior. If they only dented your car, it would be a property damage case—you want them to pay for your car repair. If they hit you hard enough that you whacked your head on the steering wheel and needed stitches, it becomes a personal injury case—you want them to pay for your medical bills, too.
If they were drunk and barreled into you because they couldn't even see the stoplight, they could be arrested for drunk driving. Now the case becomes a criminal matter as well as a personal injury and property damage case. The drunk driver might be going to jail, but we still want them to pay up for the damage they caused.
When you hire an attorney in a civil case, the attorney isn't concerned about the criminal charges. Your attorney only wants to make sure your costs are paid. This will involve investigating the accident to see what happened at the scene, interviewing witnesses to corroborate your version of events, gathering your bills, the police report, and other documents, and filing a claim with the at-fault party's insurance company.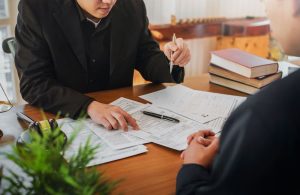 If the insurance company agrees with your attorney, the case will end there. If not, then the case must go to trial. Some insurers require that a claimant exhaust "all administrative remedies," including an appeal of the denial and mediation, before a matter can be litigated. This is why you need an attorney to help you out.
In Illinois, the statute of limitations for a personal injury case is two years from the date of injury. That begins on the date of your injury, no matter what the nature of your injury may be. If you are seriously injured, two years is not a great deal of time. Even if you don't know if you want to start legal action, or if you will need to, you should contact an attorney right away.
Illinois is a modified comparative negligence state. This means that you may recover compensation for your accident only if you are held to be less than 51 percent at fault. The amount of your recovery will be based upon your degree of liability. For instance, if you are found to be 20 percent at fault for an accident, you may still recover, but payment for the total amount of your compensable losses may be reduced to 80 percent.
This confusing and mathematical way of determining who is responsible for an accident is one way insurers work to keep from having to pay for accidents since it can be hard to understand what they're talking about. When someone begins talking about a percentage of liability, you're probably speaking to an insurance adjuster.
If an insurance company contacts you before you speak with an attorney, you should politely decline to speak to them until you can talk to a lawyer. No matter whose insurer it is, you should not sign or agree to anything unless an attorney has reviewed it first. You have a right to have your lawyer take a look at anything before you agree to it. They can wait for a day, even if they try to tell you they can't.
Call Us Today
No matter what type of personal injury case you bring us, Karlin, Fleisher & Falkenberg, LLC has an attorney who can help you get the resolution you're looking for. We have been in the Bolingbrook area for five decades, and our attorneys have an outstanding reputation throughout the region.
Attorney Richard S. Fleisher received his bar license in 1962 and has appeared before the Illinois Appellate Court, Illinois Supreme Court, U. S. Seventh Circuit Court of Appeals, and the United States Supreme Court. Mr. Fleisher has appeared pro hac vice in numerous other states and has been instrumental in some of our clients' most noteworthy settlements.
"Distinguished" is the rating Charles V. Falkenberg, III was given by Martindale-Hubbell. He's been with us since 1987, becoming one of our top mediators and arbitrators. He was twice named to Thompson Reuters "Illinois Super Lawyers" list in 2021 and 2022.
Several of our attorneys are members of the Million Dollar and Multi-Million Dollar Advocates Forum. These prestigious associations consist of attorneys who have won these high-dollar settlements for their clients on a regular basis, which are among Karlin, Fleisher & Falkenberg, LLC's proudest achievements.
When you need a law firm in Bolingbrook, IL, or anywhere in the Chicago area, contact Karlin, Fleisher & Falkenberg, LLC at 312-346-8620. The consultation is confidential. We are here to help you no matter what your case may bring.