Chicago Employer Negligence Truck Accident Attorneys
If you have been injured in a truck accident caused by employer negligence, Karlin, Fleisher & Falkenberg, LLC can help. Ensuring safe roads for all drivers requires that trucking companies stay vigilant regarding a variety of safety issues. These include providing employees with safe vehicles and equipment, allowing for adequate rest, hiring competent drivers, firing reckless or unsafe employees, regulating employee hours, and making timely repairs to vehicles. When companies neglect their duty of care regarding their employees, they risk people's lives, and can be held financially liable for their recklessness.
Our skilled Chicago employer negligence attorneys at Karlin, Fleisher & Falkenberg, LLC understand how severe the trauma of an accident can be. Accidents can have far-reaching effects that go beyond physical injuries, and include mental trauma, costly medical expenses, lost income, and strained relationships. We want accident victims and their families to have the legal support that they deserve. Call us at (312) 346-8620 to discuss your accident with one of our committed, compassionate lawyers.
Why Do I Need an Employer Negligence Lawyer?
Many people who survive trucking accidents face serious physical injuries and emotional trauma. They also face steep expenses for medical care and property damage, and many miss out on wages while they are recovering from their injuries. Pursuing a claim for compensation against the responsible party can help pay for all of these expenses, but attempting to do so on your own, while recovering, can be almost impossible.
That's why it is important to hire a lawyer to help. While you focus on recovering, your lawyer can conduct an independent investigation into your accident, gathering all the necessary evidence from the truck's black box and from consulting with experts. From this, they can determine the exact cause of your accident and identify the responsible party. They can handle negotiations with the applicable insurance company on your behalf, and even take your case to court if necessary. With a lawyer's help, you are likely to receive far more money than you would on your own.
Why Hire Karlin, Fleisher & Falkenberg, LLC to Handle my Case?
At Karlin, Fleisher & Falkenberg, LLC, our experienced injury lawyers have been helping accident victims and their families for over 40 years. When a trucking company fails to do all they can to secure the safety of everyone out on the road, our legal team makes sure that they are held accountable for their negligence.
Our Chicago lawyers have secured millions of dollars for families who have been devastated by the carelessness of others. We fight for compensation because we know the impact it can make in the quality of our clients' lives.
If you've been involved in an accident, the last thing you need is another expense to worry about. Fortunately, our lawyers don't collect any money unless we are able to get the results that you need. If we successfully hold your negligent employer accountable, then we only take a percentage of the award.
Employer Negligence Cases We Handle
Many different accidents can fall under the umbrella of employer negligence. Some of the common types of employer negligence that may lead to an accident include:
Improper hiring practices: Truck companies need to properly screen any drivers they employ to ensure they don't hire someone with a history of traffic violations, particularly drunk or drugged driving. You may be able to hold an employer negligent for an accident that at first glance appears to be the fault of the driver.
Inadequate training: Driving a massive 18-wheeler is very different from driving a regular passenger vehicle. Employers must adequately train their drivers in proper techniques for handling these huge trucks in order to ensure they know what they are doing when out on the road. Accidents caused by trucks failing to stop in time, veering from their lanes, turning improperly, and more may in fact be the responsibility of the employer.
Failing to maintain vehicles: Truck companies have a responsibility to regularly maintain and perform prompt repairs on their vehicles. Failure to do so can result in allowing an unsafe truck on the road. An accident caused by a truck malfunction may be the responsibility of the employer.
Violating truck regulations: There are specific regulations in terms of how much cargo can be loaded on trucks, how that cargo can be loaded, how much rest drivers need to take between shifts, and more. If an employer violates any of these regulations, an accident that results can be their fault.
A lawyer can investigate your accident to determine whether the employer can be held liable. Employer insurance policies are far greater than those of individual drivers, so if the employer can be held liable, you can likely recover far more money in compensation.
Let a Chicago Employer Negligence Lawyer Fight For You
If you have been injured in a trucking accident as a result of employer negligence, Karlin, Fleisher & Falkenberg, LLC can help. If you are unsure who is responsible for your accident, an experienced lawyer can help clarify your legal rights based on your situation.
You have rights and our legal team will help you protect them. If you have survived an accident, but face an uphill climb to recovery, we want to help you get there. Call our Chicago office today at (312) 346-8620 to speak with one of our truck accident lawyers about your accident today.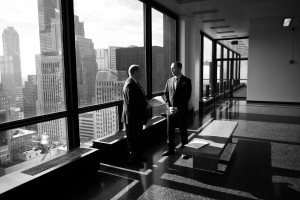 To Karlin, Fleisher & Falkenberg, LLC Please accept my sincere appreciation for the services your agency provided to me and my family on the Jessie Palmer wrongful death cases. There were so many issues that needed to be resolved, and with your assistance we were able to finally get the diagnosis report printed. My stepdaughters asked me to thank you as well for the settlements they received from their father's estate. We humbly appreciate the wonderful job your firm did with our case. In the future we will refer family and friends to your agency.
Thank you so much for your diligent, professional, and thorough handling of my car accident settlement. You were beyond helpful, accommodating, and supportive during the process. You patiently explained, in detail, the procedures that would take place during the course of the claim. You continually updated me as progress was made and gave me in-depth details. Being that I was a novice to this type of practice, you advised me as to what was realistic, yet fair, as far as when, how, and monetarily the claim would be settled. When an offer was made, you advised me accordingly, and counter-offered for what you believed to be a reasonable and objective settlement. Beyond that, you also worked determinedly to reduce my medical claims and had great success. An attorney friend of mine went as far to say that you "hit a home run" when you negotiated my settlement. I want you to know how much your guidance and attentiveness to my claim meant to me. I will definitely recommend you and your firm should any of my acquaintances need legal advice in the future.
Jonathan Fleisher was more than just my lawyer. He was my advocate and was very thorough with my case. Communication was well furnished which made for an easy process. Mr. Fleisher fought for my rights and did so justly with much empathy and compassion. I am more than elated with the outcome and how my case was handled by Mr. Fleisher. I would highly recommend him to friends , family or anyone who wants someone who will work diligently on their case. I appreciate and am very thankful for Mr. Jonathan Fleisher
Over the past couple of years I have had the privilege of Mr.Jonathan Fleisher representing me for a personal injury case that has greatly impacted my life. Mr. Fleisher fought hard and diligently on my behalf and always kept my best interests in mind. It has been truly refreshing as well as a blessing to have someone this skillful and professional buckling down and making sure every detail is captured to support my case. He has delivered exceptional service and I would recommend him to anyone that needs a personal injury attorney.
Dear J.B. ,
I wanted to thank you, for the job you did on my case. You were not only an excellent lawyer, you were a friend along the way as well. You always promptly called me, addressing my questions and concerns. As far as my settlement goes, I couldn't have expected more then you got for me. Many lawyers "brag" , about the amount of settlements they get for their clients, on their T.V. commercials . You, got me more then these lawyers "brag" about. Thank you for getting me such a strong settlement, and being a friend as well, along the way. I'd be more then happy to talk to anyone who would like to know , what a fine attorney you are. Thank you for being there for me. Sincerely,
It was not only comforting to have skilled, knowledgeable and experienced attorneys and staff during one of the most difficult times of my life, but to be supported by people who had my best interest at heart and genuinely cared about me and my personal feelings made all the difference in the world. I walked in as a client and was cared for by a family, and for that I'll be forever grateful! H. B.
Jonathan was amazing. He communicated very well, he was always looking out for my best interest. He was easy to talk to and very thorough with my case and I was elated and blessed to have a lawyer such as Jonathan by my side. I would highly recommend him! Even after the case was settled he still contacted me to follow up and check it with me. He is someone who really cares about his clients and treated me as a person not just a case #. Thank you for everything Jonathan!
I was involved in a car accident and was referred to this office. Nick Drury was the attorney who handled my case and he was nothing short of phenomenal. Personable, professional, took the time and answered my questions, accessible, very responsive via email. He also advised as to what would be in my best interest and negotiated very well on my behalf. What was an additional plus is he resolved my case promptly. Thank you Nick- I highly recommend him for anyone who is need of a personal injury attorney!