Assault & Battery in Chicago Nursing Homes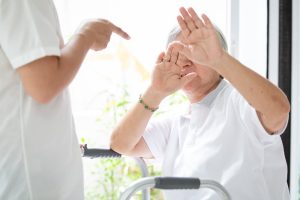 The experienced Chicago nursing home abuse attorneys at Karlin, Fleisher & Falkenberg, LLC can help you hold nursing homes accountable and prevent further abuse if your loved one was assaulted or battered in a nursing home. Find out about your legal rights and the rights of nursing home residents, and learn about your options for compensation and justice.
Contact us today at 312-346-8620 to learn more about how to protect your elderly loved one.
Do I Need an Attorney?
If you or someone you love was physically assaulted in a nursing home, you have the right to hold the nursing home accountable. Instead of trying to fight them on your own, seek the help of an acclaimed nursing home lawyer like those at Karlin, Fleisher & Falkenberg, LLC. We will advise you every step of the way as you remove your loved one from the hazardous environment, seek medical treatment, and file a claim for compensation.
Our decades of experience will enable us to fight effectively at every step of the legal process. We will assist you by gathering evidence, communicating and negotiating with other parties, and providing aggressive representation and valuable counsel.
The battery of an elderly person is a horrific act that should be met with decisive legal action against the responsible parties. Your elderly loved one should be compensated for their suffering, and the nursing home should be prosecuted to prevent similar suffering among other residents.
Why Choose Karlin, Fleisher & Falkenberg, LLC?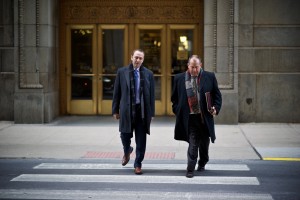 At Karlin, Fleisher & Falkenberg, LLC, our attorneys have passionately served clients in Chicago and throughout Illinois since 1970. We have dedicated ourselves to fighting for justice and restitution for our clients.
Our track record of recovering millions for our clients speaks to our reputation for successful outcomes. Client satisfaction is paramount to us, and we treat every client with our complete attention and compassion. When you enlist the resources and experience of Karlin, Fleisher & Falkenberg, LLC, you can enjoy peace of mind that the future will be brighter for your loved one.
What Is Battery In a Nursing Home?
Though it is hard to imagine anyone wanting to inflict violence on an older adult, it happens more frequently than most assume. The term battery includes violent acts such as hitting, slapping, kicking, biting, and punching. Battery against a nursing home resident is intentional and inexcusable.
The shortage of qualified and compassionate nursing home staff is often a major cause of battery against nursing home residents. Faced with a lack of suitable applicants, nursing homeowners may lower their standards and settle for those with violent records. Some nursing homes don't even bother with background checks. They will even turn a blind eye to abuse because they care more about profit than their residents' safety. If a nursing home or other care facility does not adequately protect its residents from abuse, the facility itself may be liable for the harm caused to your loved one. Places that place profitability above security should be held accountable.
How Do I Recognize Battery In a Nursing Home Resident?
Knowing whether or not your loved one has been battered in a nursing home can be difficult, especially if your loved one cannot communicate what is happening to them. Possible signs of battery in a nursing home resident include the following:
Reluctance by staff to leave you alone with your loved one
Recurring or unexplainable injuries
Bruises or open cuts
Marks on wrists indicating the use of restraints
Failure to take medications
Reluctance to speak while in the presence of staff
Broken bones or sprained joints
Becoming withdrawn
Broken or missing personal items
Emotional withdrawal or fear
Nursing home residents are among the most vulnerable parts of society, making them prime targets of abuse. If you notice sudden changes in behavior or a drastic decrease in the overall health of your loved one, they may be suffering physical harm at the hands of their caregivers.
Nursing Home Battery Cases We Handle
At Karlin, Fleisher & Falkenberg, LLC, we focus on holding people and entities who have caused harm to others accountable. We are committed to serving our Illinois clients by seeking just compensation so you or your loved one can attain closure and payment for their pain and suffering, medical bills (including mental health treatment), lost wages, and other damages.
The Illinois nursing home battery cases we handle include instances where elderly individuals have had intentional and unwarranted force used against them. This includes violent acts that clearly constitute abuse (such as hitting) and more subtle forms of physical abuse. Using unnecessary force to restrain a nursing home resident or threatening physical violence is unacceptable and may constitute abuse or battery. Nursing homes and assisted living facilities have a duty to provide their residents with a standard level of care that conforms to modern industry standards. When a facility fails to prevent the abuse of its residents, the facility and its staff members may be liable for the harm caused to your loved one.
Nursing Home Battery Statistics
Nursing home battery is a surprisingly common and under-reported issue in the United States. According to the US Health and Human Services inspector general's office, which led a probe investigating nursing home abuse, Illinois leads the nation in instances of nursing home abuse. Furthermore, their report found that over a quarter of incidents were not reported to law enforcement, seemingly in violation of the law.
Since authorities are failing to take proper recourse when abuse occurs, and nursing home abuse can be hard to detect, it is important that if you suspect your loved one has experienced battery at the hands of their caretakers, you contact an attorney to have your case evaluated. We can offer guidance by evaluating your case, and our familiarity with the law will allow us to help determine if filing a lawsuit is right for you and your loved ones. We will also support your case by gathering the proper evidence to enhance your claim.
The standard statute of limitations for Illinois nursing home abuse is two years after the injury occurs. However, exceptions exist. For example, if the victim is legally disabled, the statute of limitations will not apply. Due to these exceptions, it is important to contact an experienced Chicago nursing home abuse attorney to find out if you can file a suit.
Do not hesitate to reach out to our legal team. We will work with you to fight for the safety of older Illinois residents.
Contact Us
For almost 50 years, our attorneys have vigorously prosecuted those responsible for injuring others through neglect or abuse. We take these matters very seriously and know how to get results in these types of cases.
If you or a loved one is a victim of battery in a nursing home, enlist the experienced Chicago nursing home abuse attorneys at Karlin, Fleisher & Falkenberg, LLC to stand up for your rights. Let us focus on your legal needs so that you can focus on spending valuable time with your loved one. Call us today at 312-346-8620 for a free, confidential, and comprehensive evaluation of your case.