Type 2 Diabetes Medication Lawsuit Attorneys in Chicago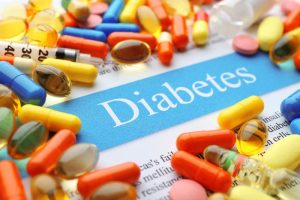 People diagnosed with type 2 diabetes have a right to expect that the medications prescribed to them will help them with their medical issues. However, many type 2 diabetes medications have been found to cause serious illness in patients. In some cases, these drugs have even led to death.
If the side effects of diabetes medications injured you, or if someone you know has lost their life because of taking these drugs, you may be entitled to compensation for your losses. The seasoned type 2 diabetes medication lawsuit attorneys of Karlin, Fleisher & Falkenberg, LLC know how to hold manufacturers accountable on behalf of those who have come to harm while taking dangerous drugs. We will pursue maximum compensation for you too.
Contact us online or call us today at 312-346-8620 for a free consultation and find out what your legal options are.
About the Drugs
The newest class of type 2 diabetes medications are knowns as sodium-glucose co-transporter (SGLT2) inhibitors. In May 2015, the Institute for Safe Medication Practices alerted the Food and Drug Administration (FDA) that many of these drugs could cause adverse reactions in some people. The specific drugs in question include:
Invokana
Invokamet
Jardiance
Xigduo XR
Glyxambi
Farxiga
While many patients find that these drugs make their diabetes easier to manage, those who suffer from certain side effects are in more danger than the benefits are worth.
Side Effects
Some of the side effects people experience are fairly mild and somewhat manageable. These include:
Yeast infections
Urinary tract infections
Sun intolerance
Skin rash
However, some people have reported more severe side effects in connection with these drugs. These can include:
Hypotension (low blood pressure)
Changes in blood work
Kidney function impairment
Allergic reactions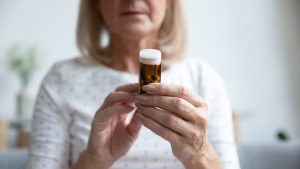 The FDA has ordered the manufacturers of SGLT2 inhibitors to conduct further testing to determine the safety risks associated with their medications, especially regarding the liver, heart, and bones. There is also an open question as to whether these drugs may lead to an increased risk of cancer.
However, one of the most serious conditions linked to SGLT2 inhibitors is diabetic ketoacidosis.
About Diabetic Ketoacidosis
Diabetic ketoacidosis (DKA) is a condition in which the body is incapable of using glucose for energy and begins to use fat stores instead. As a result, there is a buildup of ketones in the bloodstream. Because symptoms of this condition are initially mild, many patients fail to realize that there is a problem until they become dangerously ill.
For this reason, it is important that people who are taking type 2 diabetes medications learn to recognize the early signs of trouble. Early symptoms of DKA include:
Excessive hunger and thirst
Weakness and fatigue
Dizziness
Excessive urination
Nausea and abdominal discomfort
Irritability
Sweating
Heart palpitations
Shortness of breath
Over time, the condition will worsen if left untreated. More serious symptoms will include:
Breathing difficulties
Vomiting
Abdominal pain
Confusion
Severe fatigue or unusual sleepiness
Unconsciousness
If you notice any of these signs while taking SGLT2 inhibitors, it is essential that you seek immediate medical attention. Failure to recognize and treat DKA can lead to brain swelling and death.
Gangrene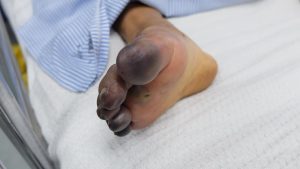 DKA is not the only serious condition that has been linked to type 2 diabetes drugs. Some SGLT2 inhibitors have also been associated with a potentially fatal bacterial infection called Fournier's gangrene. This disease is caused by flesh-eating bacteria that attack the soft tissues of the body, particularly in the area around the genitals. This condition requires immediate medical attention.
If you have received a diagnosis of Fournier's gangrene and you believe that your prescribed Type 2 diabetes medication is the cause, you may be eligible to file a claim for compensation for your losses.
SGLT2 Injury Liability
The manufacturers of drugs are legally liable for any injuries that are caused if their product is defective, unreasonably dangerous, or has design flaws. Furthermore, if they have not warned consumers of the potential harm that the drugs might cause, the manufacturer is legally responsible for the negative health consequences that result from taking the drugs, as well. You may be entitled to compensation from the manufacturer if you have experienced negative side effects from SGLT2 drugs.
The increasing number of lawsuits that have been filed against SGLT2 manufacturers are based on the assertion that these companies have failed to adequately warn the public of known drug risks, marketed these medications illegally, misrepresented and concealed known drug risks, and behaved in other negligent ways.
The lawsuits often allege that patients who were injured because of taking these drugs would not have come to harm if the manufacturers had properly warned doctors and patients of their risks. Because of this failure to warn, doctors and their patients did not have sufficient reason to believe that another treatment path would have led to more favorable results.
If you believe that you have suffered an injury due to your type 2 diabetes question, you may be eligible for a claim if:
You were hospitalized due to your injury
Your doctor prescribed the drug you were taking
You suffered from one of the injuries listed above while taking your diabetes medication
You used the drug as directed in the product labeling
Contact a Lawyer from Karlin, Fleisher & Falkenberg, LLC About A Type 2 Diabetes Medication Lawsuit Today
If you or your loved one has suffered injury from prescribed type 2 diabetes medication, you should consult with an experienced dangerous drugs lawyer from Karlin, Fleisher & Falkenberg, LLC in Chicago as soon as possible.
Our seasoned legal team is dedicated to seeking the full and fair compensation the victims of dangerous drugs deserve for the losses they have suffered.
Our firm is committed to giving individual attention to each one of our clients, and we will be on your side at every step as we work to hold negligent pharmaceutical companies to account.
Contact us online or call us today at 312-346-8620 for a free consultation and find out what your legal options are.