Chicago Dangerous Opioids and Painkillers Attorneys
Some of the most dangerous, addictive drugs people use aren't illegal substances like marijuana, cocaine, or heroin. Instead, they are prescription painkillers that are available from any pharmacy.
These prescription painkillers, such as Vicodin and OxyContin, have turned out to be much more dangerous than patients were led to believe. As a result, thousands of people suffer from crippling addiction or die from overdoses. The Centers for Disease Control and Prevention (CDC) reports there were nearly 50,000 opioid overdose deaths nationwide in one recent year, representing almost 71 percent of all drug overdose deaths for that year.
The Chicago dangerous drug lawyers of Karlin, Fleisher & Falkenberg, LLC can help you hold pharmaceutical companies accountable if you or a family member has been injured by or overdosed on opioids. We know that going up against a major drug company can be an uphill battle, but we have been fighting on behalf of injury victims for more than 50 years. Our knowledge and experience have helped us recover more than $400 million for our clients. If you want to know more about how we can help you get justice for your opioid injuries, call 312-346-8620 or visit our contact page today for a confidential consultation.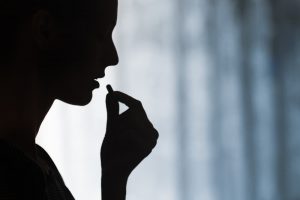 Why Are Opioids and Painkillers So Dangerous?
There is no denying that people in serious pain deserve relief, especially people who have cancer or other conditions that cause chronic pain. But many patients who were prescribed opioids or other painkillers were not fully aware of how addictive these drugs can be. Drugs like OxyContin, Vicodin, hydrocodone, morphine, and fentanyl were marketed to people with chronic pain, but misleading information from drug companies and overprescribing by doctors created an epidemic of painkiller addiction that continues to ravage the country.
According to the Mayo Clinic, there are two main dangers of using or abusing opioids or other painkillers:
Physical effects — Low doses of opioids and other painkillers can make a user feel sleepy and euphoric, which is good for patients who are experiencing severe pain. At higher doses, though, these drugs can slow your breathing and heart rate. If your breathing or heart rate slows too much, you could overdose, which can lead to death if there is no medical intervention.
Mental effects — The euphoric feelings that opioids and other painkillers produce can be intense. These feelings can be addictive, and users may experience severe withdrawal symptoms without a regular dose of painkillers. Furthermore, users often develop a tolerance for painkillers over time, meaning they have to take higher amounts of the drug to experience the same euphoric effects. As a user's tolerance increases, their chance of an overdose increases as well.
In addition to the specific dangers associated with using opioids or other painkillers, another thing that makes these drugs so dangerous is how easy they are to obtain. While strong painkillers are supposed to be tightly controlled by doctors and pharmacists, in practice, it is extremely easy for someone who wants these drugs to find them, even if they don't have a prescription. Users can easily obtain opioids from people who have prescriptions, and patients with multiple refills on their prescriptions often end up with many more pills than they actually need.
Commonly Prescribed Opioids and Other Painkillers
Some of the opioids or other painkillers that have proven addictive and potentially dangerous to users include:
OxyContin/OxyFast/OxyIR (generic name: oxycodone)
Vicodin/Hysingla ER (generic name: hydrocodone)
Butran (generic name: buprenorphine)
Dilaudid/Palladone (generic name: hydromorphone)
Ryzolt (generic name: tramadol)
MS Contin/MSIR (generic name: morphine)
Sublimaze/Abstral/Subsys/Duragesic/Ionsys (generic name: fentanyl)
Injuries From Opioids and Other Painkillers
Despite the fact that opioids and other strong painkillers are meant to help patients dealing with severe pain, these drugs can have significant side effects, especially with heavy use over time. Some common injuries and side effects from opioids and other painkillers include:
Short-term effects: Nausea, vomiting, dizziness, dry mouth, headaches, constipation, fatigue and drowsiness, itching, slowed breathing
Long-term effects: Addiction and dependency, increased risk of heart attack, irregular heartbeat, severe stomach pain, hormone issues, depression and suicidal thoughts, lower tolerance for pain
The biggest danger from opioids and other painkillers is the chance of an overdose. Some overdoses are nonfatal, but many overdoses are deadly if the user does not receive treatment quickly. In some cases, someone who has overdosed on painkillers may experience brain death even if they are resuscitated.
If you have questions about your case, don't hesitate to reach out today.
Who Can Be Held Liable for Opioid Injuries and Overdoses?
There are many parties who could potentially be liable for opioid injuries and overdoses, including:
Pharmaceutical companies that produce these drugs (Johnson & Johnson, Purdue Pharma, etc.)
Opioid distributors (Cardinal Health, McKesson Corporation, etc.)
Doctors and other healthcare workers who prescribe these drugs
Pharmacies that dispense these drugs without verifying a patient's ID or whether they have a valid prescription
Compensation Available for Opioid and Painkiller Injuries
Opioids and other strong painkillers can lead to severe injuries, addiction, and deaths in users. By filing a lawsuit against a pharmaceutical company or other liable party, you may be able to claim compensation for:
Any medical bills related to the injuries you suffered, including the cost of future care
The cost of treatment for opioid addiction
Lost income from missed work due to opioid abuse
Pain from physical injuries resulting from opioid use, such as stomach pain, irregular heartbeat, etc.
Emotional distress caused by addiction, lower quality of life, depression, suicidal thoughts, etc.
Funeral and burial expenses related to an overdose death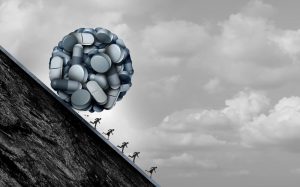 Contact a Chicago Dangerous Drugs Lawyer Today
Going up against a massive pharmaceutical company is not easy, but that does not mean you should give up on your case. With the right legal team, you can hold these companies accountable for their actions and get justice and compensation for the harm you or a family member has suffered.
The Chicago opioid drug lawyers at Karlin, Fleisher & Falkenberg, LLC are committed to helping the victims of addictive painkillers recover fair compensation for all the harm these drugs have caused them. For more information on how we may be able to help with your case, call 312-346-8620 or visit our contact page today.