Chicago Medical Malpractice Attorneys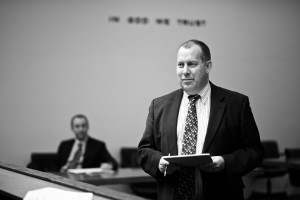 As much we have come to implicitly trust the judgment of physicians and just about every other member of the health care establishment, the fact is that some medical professionals do make serious mistakes that end up causing significant harm to their patients. Bearing that in mind, it is important that victims of medical malpractice take immediate legal action against the responsible party to help protect other patients, along with the integrity of the health care system.
At Karlin, Fleisher & Falkenberg, LLC, our Chicago medical malpractice attorneys understand just how overwhelming the prospect of working through a lawsuit may seem right now, especially when so much of your time and energy will be devoted to your recovery. While this is very likely to be a difficult time for your family, it will be in your best interests to begin working with an attorney as soon after the incident as you are able.
Medical professionals play such a critical role in maintaining the health of expectant mothers that even seemingly minor errors can potentially cause a child to develop a preventable congenital impairment. If you suspect that your child's birth injury could have been prevented with proper medical care, you have every right to be angry. That being said, we can help you take the legal action necessary to hold the responsible party accountable for your child's medical condition.
Without reasonably prompt diagnoses, patients with serious medical conditions may have to go without the kind of timely medical treatment they need to prevent their condition from getting worse. Since every day that goes by without treatment may potentially cause irreparable harm, medical professionals must do everything they can to avoid unnecessary delays in the treatment of their patients; we can help hold medical professionals accountable when they do not.
Though the prompt diagnosis of a medical condition will be critical, it is far more important that the diagnosis be correct. Sadly, serious health conditions do get misdiagnosed and patients end up undergoing treatments they do not actually need. Apart from the significant consequences a patient may suffer from not having their medical condition treated, it is possible that the wrong treatment they have been receiving will actually be dangerous in and of itself.
Before undergoing any medical procedure or treatment, medical professionals must fully inform their patients of all the risks they will assume. Once the patient knows exactly what the risks will be, he or she needs to then explicitly agree to undergo the procedure or treatment, usually by signing a consent form. If your doctor failed to properly warn you of the risks, and you ended up getting hurt during the procedure or treatment, you likely have grounds for a lawsuit.
While it is true that patients must willingly assume a certain amount of risk before undergoing a surgical procedure—usually by signing a consent form—surgeons may still be held liable for any avoidable errors they make during a procedure. While some forms of malpractice may be easier to identify than others, it is important to note that any action during a surgery that falls below the medical standard of care will be considered medical malpractice.
Emergency rooms are expected to have the staff and medical resources needed to quickly diagnose and render emergency medical care to stabilize the health of their patients. While emergency rooms can be somewhat chaotic, the management company and its staff must take appropriate measures to protect all their patients from being hurt as the result of a preventable error. That being said, management companies and their staff can be held accountable for avoidable mistakes.
Physicians must carefully manage the medications their patients use on a regular basis in order to help their patients avoid potentially dangerous drug interactions. However, even when medications are properly managed by physicians, it is still possible that the pharmacy may prescribe the wrong medication or the wrong dosage of correct medication. In any event, we can help you hold the responsible party accountable for hurting you or your loved one.
Few things will have the same power to affect you as the untimely death of someone you love. The fact that your loved one may have been saved with more competent medical care is reason enough to be angry, and our lawyers can take the legal action necessary to help you hold the responsible party accountable for your tragic loss. Though this is sure to be a difficult time for you and your family, it will be in your best interests to take legal action as soon after the incident as you are able.
Hospitals need to have the necessary resources and staffing to meet medical standards of care for their patients. When they fail to provide adequate care, hospitals should be held liable for the preventable, and oftentimes serious, harm they cause to their patients. We can help you determine exactly who may be held liable for the mistreatment you or your loved one endured, and then take the legal action necessary to hold them accountable for their negligence.
Consult with a Medical Malpractice Attorney in Chicago
If you or someone you love has been the victim of medical malpractice, you should talk to an attorney about what legal action you may now be able to take against the party found to bear ultimate responsibility for your injury. To speak with a medical malpractice attorney at Karlin, Fleisher & Falkenberg, LLC about the particulars of your claim, please call our Chicago offices at (312) 346-8620 today.