Chicago Hospital Negligence Attorneys
Hospitals are complex hives of medical activity, with a variety of staff members interacting with any given patient every day. Each medical professional has an important job to perform, and when even one of them is negligent in their duties, they can put vulnerable patients in extreme danger. For hospital patients, something as simple as a loose guardrail can lead to serious injury or death.
All hospital employees have a duty to handle their jobs with the utmost care. When they fail to do so, they put patients at risk and betray the trust patients and families put in them. At Karlin, Fleisher & Falkenberg, LLC, we believe negligent hospital employees should pay for the harm they cause to patients. If you or a loved one was hurt by hospital negligence, we will work with you to build a strong case against the employee responsible and fight tirelessly to hold them accountable.
The attorneys of Karlin, Fleisher & Falkenberg, LLC have been serving the people of the Chicago area since 1970. For almost 50 years now, we have built up a national reputation for being reliable, knowledgeable attorneys who have earned significant settlements on behalf of clients who deserve only the best. No matter what type of incident occurred, if it was the fault of the hospital or their staff, they owe you much more than an apology or an explanation. You are deserving of compensation, justice, and closure, as well as a promise to do better in the future. However, this type of litigation and personal injury law in general is very complex, so we highly recommend that you contact an attorney if you want to pursue your case.
If you want to fight for the compensation you deserve, call (312) 346-8620, fill out the email contact form on our website, or use our live chat feature. Here at Karlin, Fleisher & Falkenberg, LLC, we promise to be responsive to any inquiries you might have about your ability to build a case, so reach out to us to schedule your consultation.
Why You Need a Lawyer
Because of the amount of risk associated with what they do, hospitals employ some of the best attorneys money can buy. They are specifically trained to talk patients out of lawsuits or convince them to settle for less than they deserve in order to save the hospital money and to prevent them from getting any bad PR. Don't be a victim of their tricks. Instead, retain legal counsel and fight for the compensation you deserve to make up for the pain the hospital's negligence has caused you. If you have an attorney, your chances of winning your case and being awarded the full monetary amount you deserve are increased exponentially. The attorneys of Karlin, Fleisher & Falkenberg, LLC are highly skilled, trained, and educated individuals capable of building a strong case that will help you achieve your desired outcomes.
When people enter hospitals, it is because they want some sort of cure or pain relief. They confide in their medical professionals, and they spend a lot of money to ensure they can repair and maintain their health. They trust in their team to work towards that goal to the best of their ability. When something goes wrong and your condition is worsened as a result, you deserve to call the hospital out on their mistake. You put your trust in them, and despite their expertise and years of education and training, they failed you. You shouldn't let the hospital get away with these unforgivable mistakes, but you also shouldn't try to take the case on by yourself. Allow yourself the chance to recover not just from your injuries, but from the trust that was broken. Allow a trained hospital negligence attorney to shoulder your burden and fight for your rights so that you can focus on your recovery, manage your stress, and try to get back into your normal routine.
Why Choose Us?
The attorneys of Karlin, Fleisher & Falkenberg, LLC pride ourselves on client satisfaction, and over the years we have had multiple settlements of more than $1,000,000. In fact, we have actually had several multi-million dollar wins specifically in the area of medical malpractice. We will fight to get you the monetary amount that you deserve, and nothing less. Testimonials from past clients have referred to us as thorough advocates who work diligently to keep their clients comfortable in these stressful situations, always while keeping the best interests of these clients at heart.
How Hospital Employees Commit Negligent Errors
In any lawsuit, proving negligence means proving that the defendant had a duty to take some care and they failed to do so, that their failure caused the incident to occur, and that the incident caused harm. Medical negligence works slightly differently than most personal injury suits, however. In order to prove medical negligence, you must prove that the healthcare professional in question failed to treat you according to the standard of care. The standard of care is defined as the care a competent professional would have provided in the same circumstances. The standard of care is not codified, and instead is decided using expert testimony. Here are some examples of negligence by hospital staff:
A nurse leaves a patient in the same position for an extended period of time without checking their skin; bedsores develop.
A medical technician forgets to place a guardrail on an unsteady patient's bed; the patient falls and fractures a hip.
A nurse administers the wrong medication to a patient.
Food staff deliver a meal to a patient containing ingredients to which the patient is allergic; the patient has an allergic reaction.
A nurse fails to change the dressing on a wound carefully or often enough; the wound develops an infection.
There are several causes that are commonly present in instances of hospital negligence, which are therefore most common arguments utilized in hospital negligence court cases. If any of the following was a contributing cause for your negligence-related injury, please don't hesitate to reach out to the attorneys of Karlin, Fleisher & Falkenberg, LLC:
Under-trained medical staff (nurses, medical assistants, medical students, interns, etc.)
Unsanitary facilities and equipment
Lost medical records or test results
Unsafe or broken facilities that put the patient at risk of injury
Incorrect staffing ratio (the nurses or other medical professionals seem stressed and unable to meet the needs of everyone who comes to them for help)
These are just a few examples of the many possible types of hospital negligence and this type of accusation doesn't apply to everyone that operates in a hospital. An experienced attorney from Karlin, Fleisher & Falkenberg, LLC can help you determine whether hospital negligence or another type of medical malpractice suit is appropriate for your case.
If you are successfully able to prove your claim, you can recover monetary compensation through a settlement or a trial verdict. This compensation can make up for a variety of losses, including:
Medical expenses, such as further treatment you have to undergo to repair the damage done by the hospital's negligence
Lost wages, for time you must spend away from work recovering from the incident
Lost earning potential, if your injuries will prevent you from returning to work at the same rate of pay as before
Rehabilitative expenses, including physical or cognitive therapy
Pain and suffering, such as mental anguish and loss of enjoyment of life.
Tragically, some hospital negligence can lead to death. If your loved one passed away as a result of hospital negligence, you can pursue a wrongful death claim to recover compensation for funeral expenses, lost financial support, and more.
Contact Us
Hospital negligence can make an already difficult situation even worse for you and your family. In addition to mistakes by hospitals leading to further injury, they can lead to a mistrust in doctors or hospitals, more time off of work (lost wages), permanent disability, or even death. We all know how much training medical professionals have to go through and the qualifications they have to achieve before even being allowed to see patients. Even after they are certified and allowed to do their job on their own, they need to maintain the same standard of care that they would have if there was an attending physician or another supervisor looking over their shoulder constantly. People can get arrogant or lazy, and that's when mistakes happen.
Hospitals should be held accountable for the mistakes that are made and should make efforts to make it up to the people they hurt, but unfortunately, hospitals are businesses that care about the bottom line. They won't try to repair the damage unless you take the first step by starting a case to prove that they were in the wrong. Karlin, Fleisher & Falkenberg, LLC can help. We will work with you to build a case against the employee whose negligence hurt you and increase your chances of recovering damages. If you or someone you love was hurt by hospital negligence, call the Chicago hospital negligence attorneys of Karlin, Fleisher & Falkenberg, LLC today at (312) 346-8620.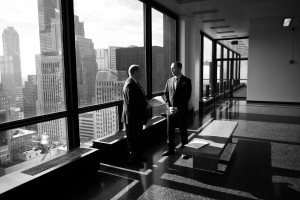 To Karlin, Fleisher & Falkenberg, LLC Please accept my sincere appreciation for the services your agency provided to me and my family on the Jessie Palmer wrongful death cases. There were so many issues that needed to be resolved, and with your assistance we were able to finally get the diagnosis report printed. My stepdaughters asked me to thank you as well for the settlements they received from their father's estate. We humbly appreciate the wonderful job your firm did with our case. In the future we will refer family and friends to your agency.
Thank you so much for your diligent, professional, and thorough handling of my car accident settlement. You were beyond helpful, accommodating, and supportive during the process. You patiently explained, in detail, the procedures that would take place during the course of the claim. You continually updated me as progress was made and gave me in-depth details. Being that I was a novice to this type of practice, you advised me as to what was realistic, yet fair, as far as when, how, and monetarily the claim would be settled. When an offer was made, you advised me accordingly, and counter-offered for what you believed to be a reasonable and objective settlement. Beyond that, you also worked determinedly to reduce my medical claims and had great success. An attorney friend of mine went as far to say that you "hit a home run" when you negotiated my settlement. I want you to know how much your guidance and attentiveness to my claim meant to me. I will definitely recommend you and your firm should any of my acquaintances need legal advice in the future.
Jonathan Fleisher was more than just my lawyer. He was my advocate and was very thorough with my case. Communication was well furnished which made for an easy process. Mr. Fleisher fought for my rights and did so justly with much empathy and compassion. I am more than elated with the outcome and how my case was handled by Mr. Fleisher. I would highly recommend him to friends , family or anyone who wants someone who will work diligently on their case. I appreciate and am very thankful for Mr. Jonathan Fleisher
Over the past couple of years I have had the privilege of Mr.Jonathan Fleisher representing me for a personal injury case that has greatly impacted my life. Mr. Fleisher fought hard and diligently on my behalf and always kept my best interests in mind. It has been truly refreshing as well as a blessing to have someone this skillful and professional buckling down and making sure every detail is captured to support my case. He has delivered exceptional service and I would recommend him to anyone that needs a personal injury attorney.
Dear J.B. ,
I wanted to thank you, for the job you did on my case. You were not only an excellent lawyer, you were a friend along the way as well. You always promptly called me, addressing my questions and concerns. As far as my settlement goes, I couldn't have expected more then you got for me. Many lawyers "brag" , about the amount of settlements they get for their clients, on their T.V. commercials . You, got me more then these lawyers "brag" about. Thank you for getting me such a strong settlement, and being a friend as well, along the way. I'd be more then happy to talk to anyone who would like to know , what a fine attorney you are. Thank you for being there for me. Sincerely,
It was not only comforting to have skilled, knowledgeable and experienced attorneys and staff during one of the most difficult times of my life, but to be supported by people who had my best interest at heart and genuinely cared about me and my personal feelings made all the difference in the world. I walked in as a client and was cared for by a family, and for that I'll be forever grateful! H. B.
Jonathan was amazing. He communicated very well, he was always looking out for my best interest. He was easy to talk to and very thorough with my case and I was elated and blessed to have a lawyer such as Jonathan by my side. I would highly recommend him! Even after the case was settled he still contacted me to follow up and check it with me. He is someone who really cares about his clients and treated me as a person not just a case #. Thank you for everything Jonathan!
I was involved in a car accident and was referred to this office. Nick Drury was the attorney who handled my case and he was nothing short of phenomenal. Personable, professional, took the time and answered my questions, accessible, very responsive via email. He also advised as to what would be in my best interest and negotiated very well on my behalf. What was an additional plus is he resolved my case promptly. Thank you Nick- I highly recommend him for anyone who is need of a personal injury attorney!