Chicago Lawyer for the Failure to Detect and Monitor Fetal Distress Injury
If you have an infant who is the victim of an injury of this type, you may be entitled to receive compensation. You need an experienced attorney to represent you and guide you through this process so that you get the money that you deserve. Karlin, Fleisher & Falkenberg, LLC Chicago birth injury lawyers are ready to speak with you. We'll discuss your options to make sure that you and your family can heal and move on from this devastating injury. Call 312-346-8620 to talk with a birth injury attorney today.
What Is Fetal Distress?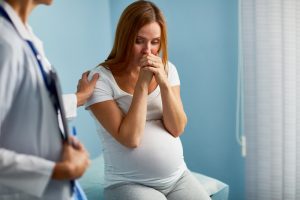 Medical care and monitoring for expectant mothers and their babies include many different aspects. Part of standard prenatal care includes close attention during the third trimester as well as during labor and delivery. Fetal distress may occur during either of these periods and is generally a result of the fetus receiving an inadequate amount of oxygen.
This may be caused by situations such as infection, umbilical cord compression, pressure on major blood vessels, and illness sustained by the mother. To prevent fetal distress, medical practitioners use detection and monitoring. When a doctor or hospital fails to detect or monitor fetal distress, serious birth injury may quickly occur because the baby's brain doesn't receive enough oxygen.
Symptoms
Symptoms and situations that can potentially indicate fetal distress may include:
A heart rate that is too slow or too fast
An abnormally low frequency of the baby kicking in the womb
The baby's heart rate dropping suddenly
Postmature pregnancy
Complications during labor
Contractions that are too close to each other or too strong
Any of these symptoms should be examined as quickly as possible and then monitored to ensure that the baby is receiving enough oxygen. Since inadequate oxygen to the brain may have catastrophic impacts on the baby, every minute counts in this type of situation. Given the human brain's continual need for oxygen, a high potential for permanent, irreversible brain damage exists.
What to Do
If your infant has been diagnosed with fetal distress or if you have observed any of the symptoms described above, immediate medical attention is critical. Once under the care of a doctor, treatment may include intravenous fluids, providing oxygen to the mother, medication to slow labor, and adjusting the mother's position by turning to one side or another. If measures such as these do not improve the baby's heart rate or other monitored metrics, emergency delivery may be appropriate to prevent injury to the baby. This may take the form of cesarean section delivery, the use of forceps, or vacuum extraction. Medical care of this level can be expensive, and the cost for this should not be your responsibility if a doctor or hospital failed to detect or monitor fetal distress. We will hold the at-fault party responsible so that your medical bills are paid, and you can focus on healing and recovery.
Who Is Responsible?
Responsibility for injury resulting from undetected or improperly monitored fetal distress must be proven. Proving responsibility includes providing sufficient evidence to demonstrate that the at-fault party caused the injury through negligence.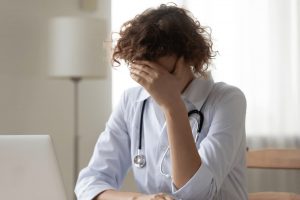 This means that this party either failed to act safely or that they caused harm through their actions. Your legal team must also prove through documentation that the at-fault party's negligence directly caused your baby's injury. Essentially, if the doctor or hospital had performed their duty to act safely, your baby would not be injured.
Your lawyer will obtain and preserve documentation as evidence. This will include a significant amount of evidence with a high level of detail. You need an attorney who is familiar with this process who knows what documentation and other evidence will be necessary to help you receive the full monetary amount to which you are entitled. Karlin, Fleisher & Falkenberg, LLC will fight for you and your baby to present the strongest case possible so that you can get back to your life and move on from this traumatic experience.
Do You Need an Attorney?
If your baby sustained an injury from a failure to detect and monitor fetal distress, you need experienced legal guidance. Your baby may have sustained serious injury, the effects of which may last a long time, may cause disability, and may affect your child's quality of life. If the injury was caused by another party, you might be entitled to receive monetary compensation. This may be payment intended to cover things like your medical expenses, ongoing medication, and physical therapy.
In order to present the strongest case possible so that you will get the maximum amount to which you are entitled, you need an attorney who has successfully been down this path many times before. Our lawyers know this process intimately and will use every tool at their disposal to get you the money that you deserve. We will take care of the legal considerations and requirements so that you can focus on your family and begin to recover from this crisis.
Call Karlin, Fleisher & Falkenberg, LLC Today
If your infant has sustained an injury due to failure to detect and monitor fetal distress, you need an attorney who will fight for you and your family. Our legal team has a depth of experience that we will bring to your case to make sure no detail is overlooked. You deserve to have the medical expenses resulting from this injury paid by the party that caused the injury so that you and your family can heal and move on from this painful and overwhelming experience.
Your Karlin, Fleisher & Falkenberg, LLC injury attorney will gather all the evidence required and will help to put your mind at ease about the entire process. We have successfully helped many satisfied clients who were victims of similar situations and needed expert legal guidance to navigate the path ahead. Contact us today at 312-346-8620 to discuss your case with a Chicago birth injury lawyer.