How to Read an Accident Report
The Illinois Department of Transportation reports nearly 73,000 people statewide were injured in car accidents in one recent year, with more than 8,500 people suffering incapacitating injuries. If you were involved in an accident in Illinois that wasn't your fault and are seeking compensation for your injuries, one of the most important pieces of evidence you will need is the police accident report. This report can help establish a baseline set of facts regarding how the accident occurred and who was at fault, which can help you in a personal injury lawsuit.
If you do not know what to look for in an Illinois police accident report, you do not need to worry. The Chicago car accident lawyers of Karlin, Fleisher & Falkenberg, LLC have been helping people pursue fair compensation for their injuries since 1970. In our more than 50 years of business, we have recovered more than $400 million for our clients. Our highly trained attorneys and staff can help you obtain your police report, show you what to look for, and assist with all other aspects of your personal injury case.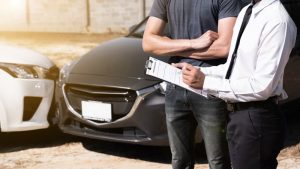 What to Look for in an Accident Report
An accident report in Illinois will generally contain the following information:
The time, date, and location of the accident
The vehicles involved, along with the drivers, owners, and any passengers involved in the accident
Whether anyone involved in the accident was taken to a hospital
Contact information for all the drivers involved in the accident
The names of any witnesses to the accident
The road conditions at the time of the accident
The weather conditions at the time of the accident
The speed limit in the area where the accident happened
Any traffic control devices located near the scene of the crash (stop signs, yield signs, traffic lights, etc.)
Any factors that may have contributed to the accident (for example, if a driver was distracted or impaired)
Pictures of the accident scene
A diagram or narrative of how the accident happened
As you are looking through the accident report, here are a few things to watch for:
The time, date, and location of the crash — Be sure this information is accurate, as the accident report is often one of the first things insurance companies look at when trying to determine fault for a crash.
Determine whether you are "Unit 1" or "Unit 2" — In general, the vehicle listed as "Unit 1" in a crash report is the one police believe is at fault for the crash. If your vehicle is listed as Unit 1, try to figure out why the police believe you may be at fault for the accident. A lawyer can help you file a request to have the report amended if you believe there are any inaccuracies.
Look at the diagram of the crash — If the diagram of the crash does not match up with your memory of the accident, you need to have the report amended, if possible.
Read the narrative of the crash — Once an officer has finished investigating an accident, they will provide a narrative account of what they believe happened. If you wish to dispute any of the facts contained in this narrative, talk to an attorney right away.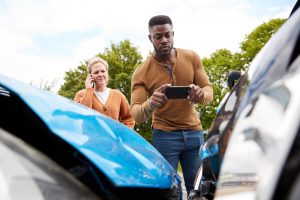 How to Obtain an Illinois Police Accident Report
Before you can obtain an accident report in Illinois, you need to figure out which agency investigated the crash and filed the report. If you were involved in an accident on a highway, your report was likely filed by the Illinois State Police (ISP). You can purchase a crash report from the ISP online or request one by mail. If you want to request the report by mail, send your request to:
Illinois State Police
Patrol Records Unit
801 South 7th Street, Suite 600-M
Springfield, Illinois 62703
When you send your request, be sure to include a self-addressed, stamped envelope and a $5 check or money order made out to the Illinois State Police. You also want to include as much information on the crash as possible (date, time, location, etc.).
If you were involved in an accident on a Chicago city street, you will likely have to go to the Chicago Police Department (CPD) for a copy of your accident report. CPD allows drivers to request their reports online for a $6 fee.
Contact a Chicago Car Accident Lawyer Today
The Chicago car accident attorneys of Karlin, Fleisher & Falkenberg, LLC can help you request your police accident report so you can seek fair compensation for your injuries. To learn more about how we can help you with your case, call 312-346-8620 or visit our contact page today for a confidential consultation.