Chicago Stair Collapse Lawyers
If you or a loved one has suffered an injury or death as a result of a stair collapse, you may be entitled to financial compensation for your medical bills and suffering. Stairs are a daily necessity in Chicago and all across the United States. Whether you are heading down to help a friend declutter their basement or climbing up a stairwell to get to the second floor of an office building, you are one of many people casually using stairs to get from one place to another. People climbing up and down stairs during their daily routines do not often take notice of these structures. However, if you are a property owner, you are legally obligated to pay much closer attention to any stairs on your premises. Failure to maintain stairs can result in a devastating accident.
If you were hurt in a stair collapse accident, it is important to know your legal rights. The Chicago stair collapse attorneys at Karlin, Fleisher & Falkenberg, LLC can help you understand the obligation of the people responsible for a stair collapse. To see if you are entitled to financial compensation, contact Karlin, Fleisher & Falkenberg, LLC at (312) 346-8620 for a free consultation concerning your legal options.
Do I Need a Stair Collapse Lawyer?
Stair collapse is a catastrophic event that can injure and even kill innocent people. This is why property owners are accountable for properly installing and maintaining their stairs. After suffering an accident like a stair collapse, it's always a good idea to consult legal professionals to see what your rights are. Under premises liability law, victims who are injured on a negligent owner's property are entitled to seek financial compensation.
However, seeking this compensation on your own can be difficult, even impossible. After an accident, you should be focusing on recovering, not fighting a legal battle. Leave the complicated nuances of premises liability law to an attorney while you focus on your health.
Why Choose Us?
After serving the Chicago community for almost 50 years, Karlin, Fleisher & Falkenberg, LLC has helped our clients recover $400 million through their cases. We have earned some clients over a million dollars, which is why we are members of the Multi-Million Dollar Advocates Forum. Fewer than 1% of lawyers in the United States are members of this prestigious group. We have the reputation and the experience to provide you with top-rated legal representation in the event of a stair collapse, and we are fully dedicated to fighting for the rights of our community when they are faced with any kind of suffering after a stair collapse. We can help you win compensation for medical bills, physical therapy, loss of wages, long-term care, and other suffering after a stair collapse accident.
Common Causes of Stair Collapse
Like any other building structure, stairs have many important components. Specific materials, such as wood and nails, fit together a certain way to support the weight of people climbing and descending. When any one thing is incorrectly installed, it can compromise the entire set of stairs. Furthermore, stairs might become hazardous over time as materials weaken. Stairs in large buildings that many people use are particularly susceptible to collapse if they are not designed and maintained responsibly. Even though it is natural for stairs to weaken over time, it is the legal responsibility of property owners to ensure the safety of their structure. Any set of stairs must meet Chicago building codes, or else they could collapse under the people trying to use them.
Precisely because many factors can cause stair collapse, property owners need to check their stairs regularly and perform routine maintenance. Negligence and oversight can create unsafe conditions that can cause stairs to collapse when people attempt to use them. A few common causes of stair collapse include:
Shoddy workmanship: If a set of stairs was hastily or carelessly built, it is easy for more problems to arise and endanger people using them.
Unfit materials used in construction: If a company builds a set of stairs that with materials that cannot handle the amount of people using those stairs, it can lead to collapse.
Rotten wood: Stair collapse can be caused by improper care and upkeep that allow wood rot from termite infestation, dry rot, or water damage.
Cracks in steps that are never replaced: It is important to ensure that property owners fix problems like cracks in a stair step quickly so they do not put innocent people's safety at risk.
Poorly installed supports: A problem with stair supports can easily and dangerously affect the strength of the staircase as a whole.
Weather damage: Rust and erosion are other factors that cause stairs to deteriorate, and it is important for property owners to fix those issues quickly.
Any one of these problems can make a stairway collapse unexpectedly. When a stairway is poorly constructed and seldom maintained, problems tend to multiply, making a collapse more and more likely. Many of these issues can begin as just little problems, like a crack in a step or a banister that is beginning to rot. It can be quick, easy, and relatively cheap for a lot of these problems to be solved before they become serious and dangerous for the people using these stairs. However, if the property owners do not perform the necessary upkeep to their stairs, they can collapse, and serious injuries can occur.
Injuries Caused by Stair Collapse
There are many different injuries that could result from a stair collapse incident, which can cause you to rack up expensive medical bills and lose income by forcing you to take your valuable time off work. Some of these injuries include:
Broken or fractured bones
Neck or spine injuries
Lacerations and bruising
Brain injuries
Permanent injuries or disabilities
Soft tissue injuries
If you have suffered these or other injuries after a stair collapse, Karlin, Fleisher & Falkenberg, LLC can help you recover compensation for all your related medical expenses and other costs.
Who Can Be Held Responsible After a Stair Collapse
There are several different parties that may be held responsible if a staircase collapses. The building's designer or development company can be held accountable if the stairs were poorly designed and built. Property owners and building managers can also be held responsible for a stair collapse if they fail to adequately maintain their stairs. A lawyer from Karlin, Fleisher & Falkenberg, LLC can work with you to determine precisely who was at fault for your accident and then help you take action against them.
Contact Us
Our premise liability lawyers at Karlin, Fleisher & Falkenberg, LLC believe that property owners have a responsibility to prevent dangers on their physical estates. If you or someone close to you has been injured in a stair collapse, you might be able to recover money lost to medical bills, time away from work, and time spent in recovery. Call us at (312) 346-8620 to learn about your legal options from a dedicated professional in a free consultation.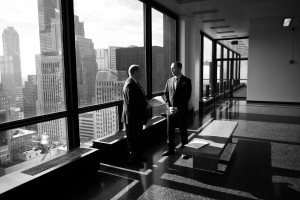 To Karlin, Fleisher & Falkenberg, LLC Please accept my sincere appreciation for the services your agency provided to me and my family on the Jessie Palmer wrongful death cases. There were so many issues that needed to be resolved, and with your assistance we were able to finally get the diagnosis report printed. My stepdaughters asked me to thank you as well for the settlements they received from their father's estate. We humbly appreciate the wonderful job your firm did with our case. In the future we will refer family and friends to your agency.
Thank you so much for your diligent, professional, and thorough handling of my car accident settlement. You were beyond helpful, accommodating, and supportive during the process. You patiently explained, in detail, the procedures that would take place during the course of the claim. You continually updated me as progress was made and gave me in-depth details. Being that I was a novice to this type of practice, you advised me as to what was realistic, yet fair, as far as when, how, and monetarily the claim would be settled. When an offer was made, you advised me accordingly, and counter-offered for what you believed to be a reasonable and objective settlement. Beyond that, you also worked determinedly to reduce my medical claims and had great success. An attorney friend of mine went as far to say that you "hit a home run" when you negotiated my settlement. I want you to know how much your guidance and attentiveness to my claim meant to me. I will definitely recommend you and your firm should any of my acquaintances need legal advice in the future.
Jonathan Fleisher was more than just my lawyer. He was my advocate and was very thorough with my case. Communication was well furnished which made for an easy process. Mr. Fleisher fought for my rights and did so justly with much empathy and compassion. I am more than elated with the outcome and how my case was handled by Mr. Fleisher. I would highly recommend him to friends , family or anyone who wants someone who will work diligently on their case. I appreciate and am very thankful for Mr. Jonathan Fleisher
Over the past couple of years I have had the privilege of Mr.Jonathan Fleisher representing me for a personal injury case that has greatly impacted my life. Mr. Fleisher fought hard and diligently on my behalf and always kept my best interests in mind. It has been truly refreshing as well as a blessing to have someone this skillful and professional buckling down and making sure every detail is captured to support my case. He has delivered exceptional service and I would recommend him to anyone that needs a personal injury attorney.
Dear J.B. ,
I wanted to thank you, for the job you did on my case. You were not only an excellent lawyer, you were a friend along the way as well. You always promptly called me, addressing my questions and concerns. As far as my settlement goes, I couldn't have expected more then you got for me. Many lawyers "brag" , about the amount of settlements they get for their clients, on their T.V. commercials . You, got me more then these lawyers "brag" about. Thank you for getting me such a strong settlement, and being a friend as well, along the way. I'd be more then happy to talk to anyone who would like to know , what a fine attorney you are. Thank you for being there for me. Sincerely,
It was not only comforting to have skilled, knowledgeable and experienced attorneys and staff during one of the most difficult times of my life, but to be supported by people who had my best interest at heart and genuinely cared about me and my personal feelings made all the difference in the world. I walked in as a client and was cared for by a family, and for that I'll be forever grateful! H. B.
Jonathan was amazing. He communicated very well, he was always looking out for my best interest. He was easy to talk to and very thorough with my case and I was elated and blessed to have a lawyer such as Jonathan by my side. I would highly recommend him! Even after the case was settled he still contacted me to follow up and check it with me. He is someone who really cares about his clients and treated me as a person not just a case #. Thank you for everything Jonathan!
I was involved in a car accident and was referred to this office. Nick Drury was the attorney who handled my case and he was nothing short of phenomenal. Personable, professional, took the time and answered my questions, accessible, very responsive via email. He also advised as to what would be in my best interest and negotiated very well on my behalf. What was an additional plus is he resolved my case promptly. Thank you Nick- I highly recommend him for anyone who is need of a personal injury attorney!